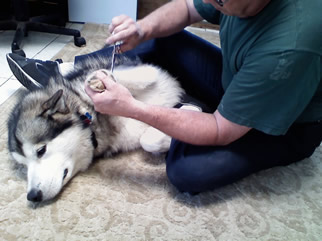 Pet owners can save a lot of money on grooming services by taking a few minutes out of their day to brush, de-tangle, de-shed, deodorize their pets, and trim their nails.
One way to prevent the back-breaking task of bending over, squatting down, or sitting on the floor is to get a table that puts your pet at a working height.
GroomRight tables are also great for dog washing.  Set up in the yard or driveway, put your pet on the waterproof grooming table, and wash away!
Regular pet grooming reduces dander and pet hair from shedding.  It helps pets develop their coats properly, and can prevent skin problems.
Owning a GroomRight All Breed Grooming Table is a great way to take care of your pet in a way that is comfortable for you and your pet.  Best of all GroomRight tables are portable and the legs fold up for easy storage.
Find out more about quality GroomRight grooming tables here >>